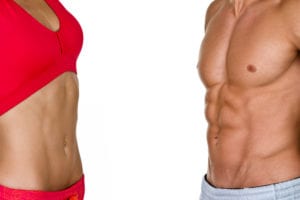 While most patients will improve their appearance with traditional methods such as diet and exercise, there are specific areas of the body where fat tends to accumulate and make it difficult to achieve the changes patients wish to see. For many adult men and women, the leading trouble spot is the abdominal area where excess fat appears on the sides and front of the stomach area. If a patient is having difficulty achieving the body contours they want with diet and exercise alone, they may want to learn more about a noninvasive option known as Coolsculpting.
What is Coolsculpting and how does it work?
The providers at Georgia Dermatology Partners describe Coolsculpting as a specialized, FDA-approved treatment for freezing away fat cells and providing improved body contours without plastic surgery. The device uses a process known as cryolipolysis. Instead of liposuction, the Coolsculpting device penetrates deep into the skin to the fat where the cells are frozen. The body then eliminates the fat cells naturally through the lymphatic system. The results from Coolsculpting are not immediate and instead happen gradually over several weeks. This not only provides noticeable results, but ensures a more natural appearance to the body changes—eliminating the dramatic appearance of "having work done."
Is Coolsculpting safe?
Coolsculpting has been on the market for several years and has FDA-approval for body contouring. It has proven to be an exceptionally effective way for both men and women to target stomach fat and love handles without going under the knife with plastic surgery or undergoing liposuction. It is perfect for patients who are within their ideal weight range but are troubled by specific areas of fat that can make it difficult to feel self-confident.
Learn more about Coolsculpting
Our providers at Georgia Dermatology Partners are pleased to offer new and current patients a plethora of cosmetic treatments for improving the skin and body, and we welcome new patients in the area to call (770) 972-4845 to request an appointment. Coolsculpting is just one of many services provided in our office to help patients achieve the results they want when diet and exercise are no longer working on targeted areas.
Posted in: CoolSculpting